2023 China-Europe Track II Digital Dialogue Plan
Friday 24 March 2023, 14:00 – 18:30 (Beijing Time)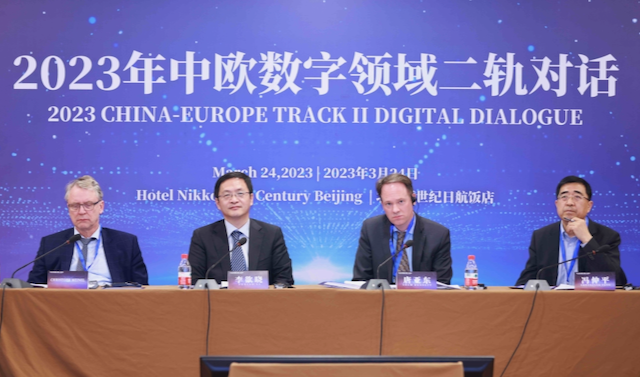 Photo credit: 中国网络空间安全协会 Cyber Security Association of China.
The Cyber Security Association of China and the European Union Chamber of Commerce in China organised the 2023 China-Europe Track II Digital Dialogue Plan (2023年中欧数字领域二轨对话). The event took place on March 24th, 2023, at the Hotel Nikko New Century Beijing and via Zoom for online participants.
The Digital Dialogue Plan brought together thirty high-level representatives and experts from Chinese and European public, private, and research institutions. The guests included representatives from the Cyberspace Administration of China, the People's Republic of China Ministry of Foreign Affairs, OECD, legal professionals, universities, think tanks, research institutions, and industries such as automotive and health sectors. Mrs. Mireia Paulo was invited to participate in the first panel related to regulatory rules for cross-border data flow between China and Europe.
The 2023 China-Europe Track II Digital Dialogue Plan was a relevant high-level dialogue in enhancing understanding of regulatory frameworks, particularly in data governance regimes, between China and Europe. This high-level dialogue provided a significant platform for re-establishing discussions on digital affairs, particularly in addressing the pressing need for tackling barriers encountered when conducting cross-border data transfers and addressing the lack of talent in the digital field.
Chinese Mission to the EU. 中国驻欧盟使团。2023年中欧数字领域二轨对话举办 (Chinese source). 
专家观点| Mireia Paulo:中欧数据跨境流动规则互操作性的比较研究 (Chinese source). 
Cyber Security Association of China News (Chinese source). 
Office of the Central Cyber Space Commission (CAC) news (Chinese source).
The Digital Dialogue Plan addressed three key topics: "China-EU exchange of regulatory rules for cross-border data flow", "Global digital cooperation opportunities and China-EU digital cooperation", and "China-EU digital talent training cooperation."
The first topic emphasized the regulatory policies and practices surrounding cross-border data flows, international data security rules, and the Global Data Security Initiative (GDSI) in major world economies such as the PRC and the EU. The speakers noted that the EU and the PRC have their distinct sets of policy priorities and regulatory frameworks, which makes cross-border data sharing a challenging landscape. However, they also identified potential areas for collaboration and cooperation. The overarching message of the discussion was clear: as we continue to move online, facilitating cross-border data flows is vital for our societies and economies. Finding innovative legislation and mechanisms that balance data protection and free data movement, as well as consumer rights and digital markets is an urgent and complex task.
The second topic centered around global and China-Europe digital cooperation opportunities. The speakers highlighted the role of new technologies and applications, such as artificial intelligence, 5G, and the industrial Internet in the digital economy. The participants addressed various digital issues and presented a wide range of areas where competition exists. Despite political and regulatory differences, the speakers identified potential collaboration opportunities at multiple levels and industry sectors.
The third topic focused on China-EU digital talent training cooperation, which included policy and experience sharing. Representatives from different disciplines and institutions, such as research institutes, higher education, and other associations, explained their specific measures for China-EU digital talent training practices, including teaching materials and specific activities to further collaboration.
During the event, constructive discussions covered differences, commonalities, barriers, and concerns in the current complex domestic, regional, and international digital landscape. Many experts agreed that differences and barriers should not shape high-level political discussions, and talks should be focused on those commonalities to find innovative legal mechanisms to further collaborations between regions. The outcomes of the Dialogue serve as an excellent foundation for further collaboration in the digital domain, for example, the establishment of regular communication mechanisms, including the formation of liaison mechanisms and consultation for problem-solving mechanisms. Overall, organisers hope that this dialogue will be the first of many events to promote understanding and cooperation in this critical field.
Photo credit: 中国网络空间安全协会 Cyber Security Association of China.