Deciding where, when, and what to study at university are three big decisions to make
CEAC offers a dynamic and diverse student experience that provides students with the space to research, develop, and thrive in their vibrant urban environments
The Centre for EU-Asia Connectivity (CEAC) is the first Jean Monnet Centre of Excellence at Ruhr-Universität Bochum (RUB). As a Jean Monnet Action, CEAC is designed to promote excellence in teaching and research in the field of European Union studies. The Centre promotes teaching on EU-Asia affairs for undergraduate, graduate, and post-graduate students, i.e. at the B.A., M.A., and Ph.D. level. The curricular introduces EU studies at the Faculty of East Asian Studies and Ruhr-Universität Bochum (RUB). In addition, the courses are also offered to students involved at the AREA Ruhr, a joint research alliance of the Faculty of East Asian Studies, RUB, and the Institute of East Asian Studies (IN-EAST), University of Duisburg-Essen, within the greater University Alliance Ruhr (UA Ruhr). In the context of AREA Ruhr, students from the Faculty of East Asian Studies (RUB) have the opportunity to take classes at the IN-EAST (UDE) and vice versa.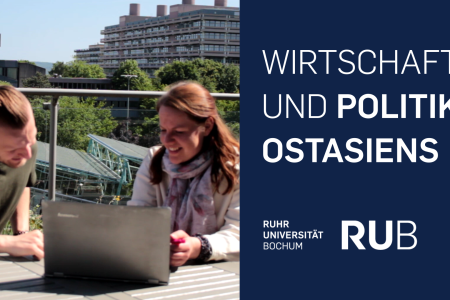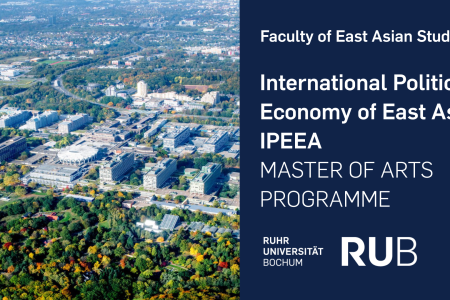 CEAC teaching activities build on the work already started during the time of a first Jean Monnet Chair (2016-2019) and a second one (2020-2023) awarded to Prof. Dr. Sebastian Bersick. The first awarded Chair introduced EU studies and the EU's role in East Asian studies. Building on the success of the first project, Prof. Dr. Bersick was awarded with a second Jean Monnet Chair in 2020. The second Chair promoted the expansion of content and teaching activities by increasing the academic staff that include EU studies in their courses to students that normally do not deal with EU issues. Thereby teaching and research capacities in the field of EU studies were strengthened at faculty, university, and AREA-Ruhr level.
Building on the extraordinary breadth of academic disciplines, CEAC and its network enables us to study and research current and future developments in EU-Asia affairs and their economic, political, and security dimensions. 
When you choose the Faculty of East Asian Studies, you are choosing to broaden your personal and academic horizons. You will find at the faculty an inspiring and international community of students, researchers, and academic staff, particularly from Europe and Asia.
We want our graduates to become academic professionals and engaged global citizens who contribute to solutions for the challenges facing our society. This calls for teaching that is strongly research-driven.
The Faculty of East Asian Studies was founded in 1965 with the objective of giving new impetus to research and teaching in the field. The Faculty's study programmes are designed to enable students to address the region comprehensively and across academic disciplines, such as political science, international political economy, area studies, history, linguistics, religion, and sociology. The students gain expert knowledge on the historical and contemporary phenomena in East Asia. The focus of both research and teaching is on China, Japan, and Korea.
Ruhr-Universität Bochum (RUB) has become a magnet for creative minds at all career stages and from all over the world, who study, conduct research and work together in a truly international and inclusive environment.
Currently 43,500 students, over 6,300 of them international, study at RUB. Our students, and around 600 international exchange students per year, study in 57 Bachelor's programs and in 130 Master's programs, 18 double and joint degree programs, 17 study programs taught in English, and three transnational study programs taught abroad. More than 500 international visiting scholars per year and an excellent positioning in the ranking of the Alexander von Humboldt-Foundation prove that RUB is also a sought-after host for internationally renowned researchers from around the world.
RUB is one of Germany's largest research universities with a strong track record in cutting-edge interdisciplinary research, the promotion of research talents across all career stages, innovative and research-based teaching, as well as effective transfer and global engagement activities. Innovative and research-based teaching is the backbone of our curricula to foster early independence, exploratory learning and teamwork. RUB students are well prepared to become active, responsible citizens and critical, well-informed participants in the global knowledge society. 
AREA Ruhr has become one of Europe's largest research and teaching hubs in the field of East Asian Studies. It brings together a wide range of scholarly fields and disciplines, ranging from political science to economics, from sociology to linguistics, from historical to contemporary research. AREA Ruhr thus creates a unique interdisciplinary research and teaching environment for the study of East Asia.
AREA Ruhr is a member of the University Alliance Ruhr. Since 2007, the UA Ruhr facilitates strategic cooperation between the University of Duisburg-Essen, the Ruhr-University of Bochum, and the TU Dortmund University, consolidating resources as well as research and teaching activities. Following the motto "Three universities – One community – Endless opportunities", UA Ruhr has facilitated the creation of more than 100 cooperative projects in the areas of research, teaching, and administration. With more than 115,000 students and 1,300 professors, UA Ruhr is one of the largest and strongest academic alliances in Germany.
Previous and current teaching conducted by our researchers:
Student Exchange Programme
Research can open doors - academic or career - that you had not imagined before. From all accounts, getting into research is one of the more rewarding experiences students can have in university
Fancy on adventure, intercultural experience, and an international career?
For more information visit:
Become CEAC's partner
Do you want to take the next step and collaborate with CEAC? Do you want to create an exchange programme with us? Contact us and tell us about your innovative ideas, we would love to hear them!