The Centre for EU-Asia Connectivity (CEAC) and the Comenius Centre Educatiu announce partnership
Bochum – Valencia, April 4, 2023 – The Centre for EU-Asia Connectivity (CEAC) and the Comenius Centre Educatiu are delighted to announce their partnership aimed at creating traineeships (work placements, internships) opportunities for undergraduate students.
The Comenius Centre Educatiu is a higher education centre specialised on technical areas, also providing vocational training education. It is located in Valencia, Spain. Among the different programmes they offer are the following: Administrative and Financial (Business), Image, Video, Photography, Sound, as well as Audio-visual and Performances Production.
In order to further increase the international exposure, staff mobility, and opportunities professional development available to undergraduate students, the two higher education institutions have announced a new collaboration. Under the Erasmus+ programme, this partnership is expected to provide students with a more comprehensive and seamless internship and staff mobility experience abroad by leveraging the strengths and resources of each institution. By working together, the institutions wish to broaden the range of internship opportunities available to students, as well as to provide them with the support and guidance necessary to succeed in their chosen field. By doing a traineeship abroad, students can greatly improve their knowledge, skills, and competences that will help them in their future career.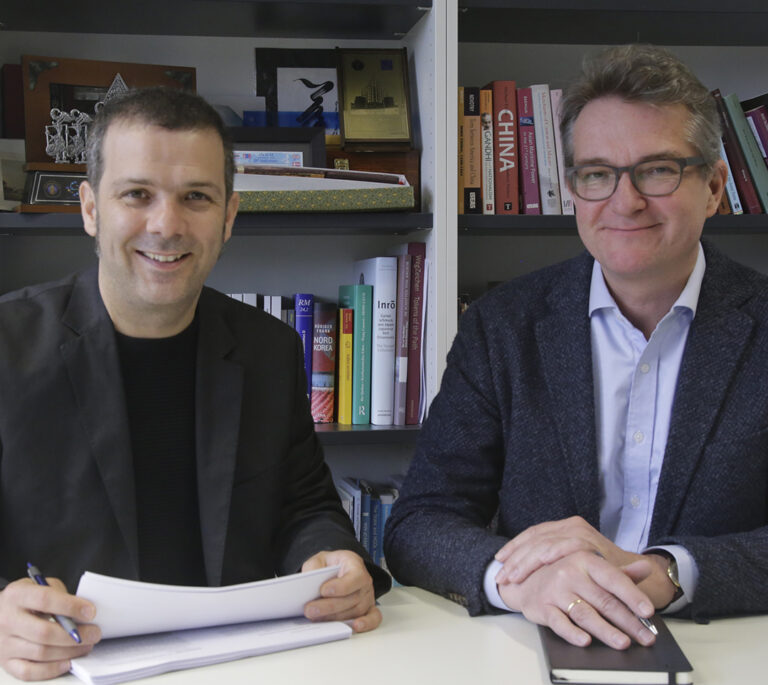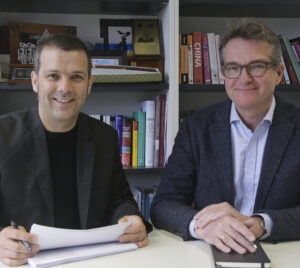 During the visit to CEAC and RUB, Mr. Pau Romero, Managing Board Secretary and Vocational Training Lecturer, and Prof. Dr. Sebastian Bersick, Director of CEAC, met and formalised the partnership. They both highlighted the many benefits of the partnership and shared a similar vision for providing students with internship opportunities abroad. At the heart of the partnership is a shared commitment to providing students with the tools they need to thrive in an increasingly globalised and interconnected world. CEAC will provide a number of internship opportunities for Comenius' students to finalise their studies, with the aim to stimulate and deepen students' exchanges, enhance international working culture, and promote interdisciplinary teams. By facilitating internships abroad, the Comenius Centre Educatiu aims to support students to develop cross-cultural communication and collaboration skills. Both institutions will also work together to provide students with the support and guidance they need to succeed in their internships.
Commenting on the partnership, representatives from both institutions emphasised its advantages. "We are thrilled to be partnering with this esteemed institution to offer our students the chance to gain valuable international experience through internships abroad," said Mr. Romero. "We believe that this partnership will help students become more competitive and successful in their careers, while also fostering greater cross-cultural understanding and collaboration for future young European citizens," Prof. Bersick stated.
Moreover, the partnership is designed to intensify people-to-people exchange, including increased access to international internship opportunities and the possibility for staff exchange opportunities. The collaboration will facilitate the exchange of ideas and knowledge in order to boost relations between the two countries, its many actors, and stakeholders. The partnership between CEAC and Comenius Centre Educatiu aims to bring together the expertise and experience of both institutions to further promote connectivity and cooperation between EU member states and higher education institutions under the Erasmus+ Programme.
To ensure that the partnership is successful in achieving its goals, the two institutions will work closely together to establish clear objectives and metrics for measuring progress. This will include regular assessments of the quality and impact of the internship programme, as well as ongoing dialogue between the universities to ensure that they are meeting the needs and expectations of their students and other stakeholders.
The announcement of the new partnership comes at a time when many European higher education institutions are looking for ways to expand their offerings and provide students with more opportunities to gain hands-on experience and build their professional networks. By leveraging their strengths and resources, the two institutions involved are demonstrating their commitment to innovation and collaboration that is sure to benefit students, faculty, and staff for years to come.