CONFERENCE: Go East: New Perspectives and New Connections - Central Asia and the South Caucasus
Tuesday – Wednesday, November 28-29, 2023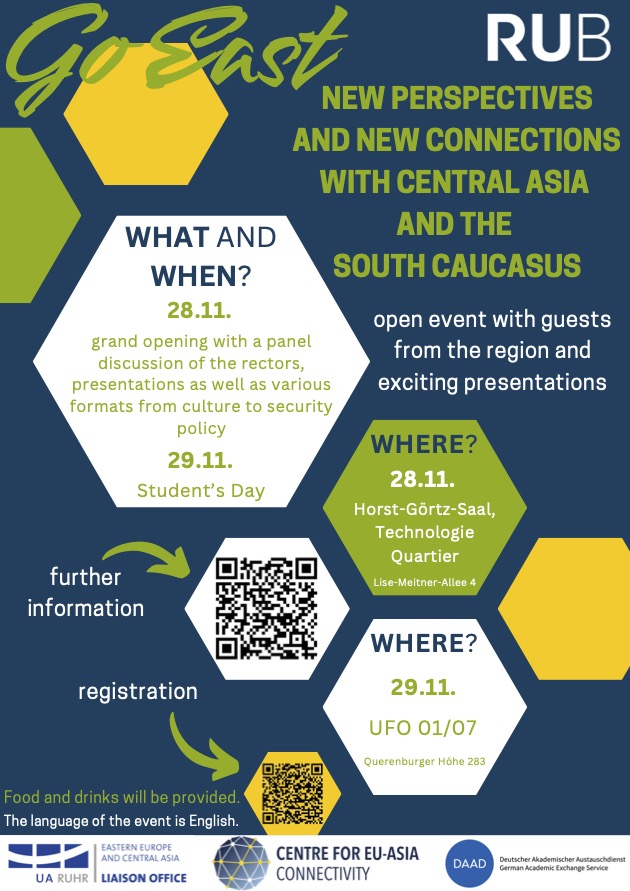 You are cordially invited to join us at the upcoming event titled "Exploring Eastern Horizons: Central Asia and the South Caucasus," scheduled for November 28th and 29th, 2023.
Esteemed colleagues and students from Uzbekistan, Kazakhstan, and Georgia will join the panel of experts in presenting a diverse programme. This event is a unique opportunity for anyone with a keen interest in delving deeper into the region that bridges Europe and China, connecting it with various East and Southeast Asian nations. In the current global landscape, it is not only high-ranking politicians and heads of state who are increasingly turning their attention to and traveling to this dynamic region. Students, too, can seize opportunities in this region, and we aim to foster such prospects through a collaboration agreement during this event.
Please find the event programme and poster attached for your reference. To secure your participation, we kindly request that you register using the provided link: https://international.ruhr-uni-bochum.de/de/go-east-perspektiven-im-osten-zentralasiensuedkaukasus
wir möchten Sie herzlich zu der Veranstaltung Go East: New Perspectives and New Connections—Central Asia and the South Caucasus am 28. und 29. November 2023 einladen.
Es werden Kollegen sowie Studierende aus Usbekistan, Kasachstan und Georgien kommen und gemeinsam mit weiteren Fachleuten ein buntes Programm anbieten. Wer schon immer gerne mehr zur Region wissen wollte, die zwischen Europa und China sowie weiteren Ost- und Südostasiatischen Staaten liegt, ist hier genau richtig. In der aktuellen globalen Lage reisen nicht nur hochrangige Politiker und Präsidenten immer öfter in diese Region. Sie bietet auch für Studierende Möglichkeiten, die wir mit einer Kooperation während dieser Veranstaltung etablieren wollen.
Das Programm und Plakat finden Sie beigefügt. Bitte melden Sie sich unter folgendem Link zur Veranstaltung an:
https://international.ruhr-uni-bochum.de/de/go-east-perspektiven-im-osten-zentralasiensuedkaukasus