Renewed Cooperation Between EAS and SIRPA Enhances Student Exchange Programme
Bochum-Shanghai, 15 July 2023, the Faculty of East Asian Studies (EAS) at Ruhr-Universität Bochum in Germany and the School of International Relations and Public Affairs (SIRPA) at Fudan University in China have renewed their initial Memorandum of Understanding (MoU) from 2018.
This renewed cooperative agreement reaffirms the commitment to fostering academic partnerships between the two continents, particularly Germany and China. At the heart of this initiative lies a thriving student exchange program, catering to both undergraduate and graduate students. As part of this program, students from both institutions will have the invaluable opportunity to pursue regular courses as non-degree students at their host university. The decision to renew this agreement hinges on the proven success and impact, ensuring ongoing effectiveness.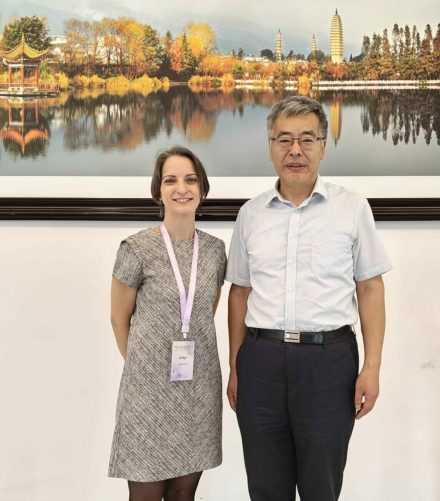 During the international competition YICGG2023 in Dali, Yunan, China, Prof. Su Change, Dean of the School of International Relations and Public Affairs (SIRPA) at Fudan and Mrs. Mireia Paulo, Head of Management at the Centre for EU-Asia Connectivity (CEAC) as representative of the Faculty of East Asian Studies at RUB, met and renewed the MoU. They both highlighted the many benefits of the partnership and shared a similar vision for providing students with internship opportunities abroad. At the heart of the partnership is a shared commitment to providing students with the tools they need to thrive in an increasingly globalised and interconnected world. CEAC, located at the Faculty of East Asian Studies, and Prof. Bersick's Chair, International Political Economy of East Asia, has long championed the vision of sustained support for exceptional partnerships and networks to achieve synergistic and sustainable effects in academic exchanges. These efforts not only enhance connectivity between Europe and Asia but also promote meaningful people-to-people interactions, as well as fostering a deeper understanding of each other's regions.
The significance of such partnerships cannot be overstated, especially in the fields of international relations and East Asian studies. This collaboration opens up remarkable opportunities for students to experience studying abroad and enriching students' academic competencies and language knowledge. By immersing themselves in a foreign academic environment, students can gain unique insights, cultural awareness, and valuable international perspectives. For students in these fields, this partnership opens doors to immense personal and academic growth. Studying in diverse cultural and social contexts broadens their horizons and nurtures cross-cultural communication skills, preparing them to be effective global citizens and future leaders.
The renewed cooperation shows the significance of academic partnerships between Europe and Asia in academia and people-to-people exchanges. This partnership provides an excellent platform for students in international relations and East Asian studies to embark on transformative academic journeys abroad, enriching their understanding of the other region and promoting academic and intercultural relations. As these collaborative efforts continue to flourish, they will undoubtedly contribute to the advancement of knowledge, intercultural dialogue, and deeper understanding between regions.